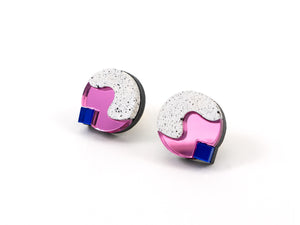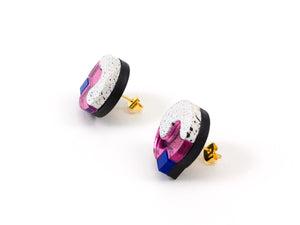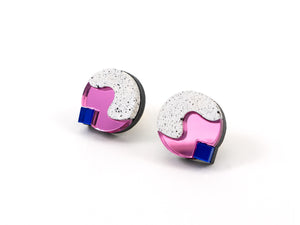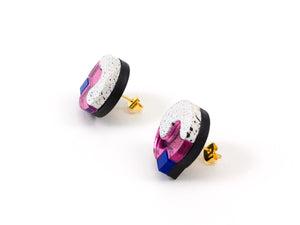 On Sale
FORM081 BUBBLE Studs - White, Babypink, Blue
Statement Mini Earrings hand made in London, UK.
Comprised of laser cut and layered acrylic mirror in babypink, blue and hand painted wood (FSC Certified) in white with small black dots and black (matte varnish finish).

Measurements:
Width – 2.0cm
Hight – 2.0cm

The earrings come with Gold Plated Posts.
The earrings will be shipped from London, UK.
The other colour options are available in Black/Gold/Purple, White/Gold/Green and Black/Iceblue/Babypink.
These earrings are part of CITY POP COLLECTION.
Inspired by City Pop which is a loosely defined form of Japanese pop music emerged in the late 1970s and peaked in the 1980s, this collection captures the vibrant, optimistic, slick and urban atmosphere of the Japanese pop music and culture in the 80s.