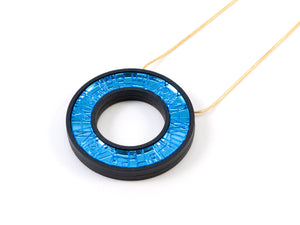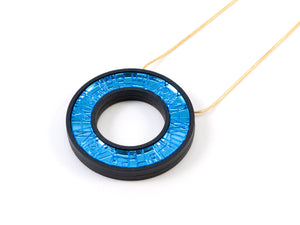 On Sale
FORM065 PELOTA Necklace - Ice Blue
Geometric Perspex Statement Necklace hand made in London, UK.
Comprised of laser cut and layered acrylic mirror in ice blue and painted wood (FSC Certified) in black (matte varnish finish).

Measurements:
5.0cm x 5.0cm in diameter
Chain Length – 60cm

The necklace has a Gold Plated Snake Chain.

The necklace will arrive beautifully packaged in a black matt jewellery box with embossed logo in gold foiling and will be shipped from London, UK.

The other colour options are available in Gold, Babypink and Silver.

PELOTA is inspired by the ball ring of juego de pelota (Maya Ball Game). 
The game had important ritual aspects, and major formal ballgames were held as ritual events. 
Late in the history of the game, some cultures occasionally seem to have combined competitions with religious human sacrifice. 
The sport was also played casually for recreation by children and may have been played by women as well. 

This necklace is part of MAYA COLLECTION.