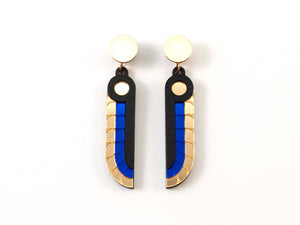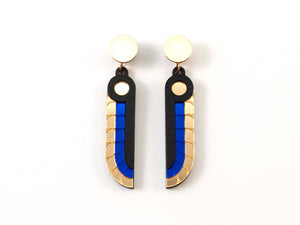 On Sale
FORM069 MA'AT Stud Earrings - Blue
Statement Earrings hand made in London, UK.
Comprised of laser cut and layered acrylic mirror in blue, gold and painted wood (FSC Certified) in black (matte varnish finish).
Measurements:
Width – 1.5cm
Hight – 6.5cm
Flat Coin Post size - 1.5 cm
The earrings come with 16K gold plated brass, nickel free posts.
The earrings will be shipped from London, UK.
The other colour options are available in Teal and Purple.
These earrings are part of GIZA COLLECTION.

Ma'at is the goddess of truth, justice, and the cosmic order in the ancient Egyptian religion.