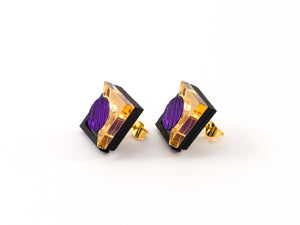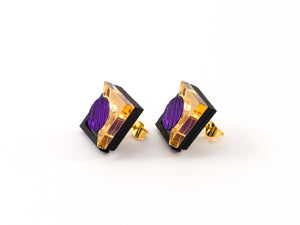 On Sale
FORM068 KHUFU I Stud Earrings - Gold, Purple
Statement Mini Earrings hand made in London, UK.
Comprised of laser cut and layered acrylic mirror in gold, purple and painted wood (FSC Certified) in black (matte varnish finish).

Measurements:
Width – 2.0cm
Hight – 2.6cm

The earrings come with Gold Plated Posts.
The earrings will be shipped from London, UK.

The other colour options are available in Blue/Gold and Iceblue/Babypink.
These earrings are part of GIZA COLLECTION.

Khufu is inspired by the king Khufu, an ancient Egyptian monarch who was the second pharaoh of the Fourth Dynasty in the Old Kingdom Period.